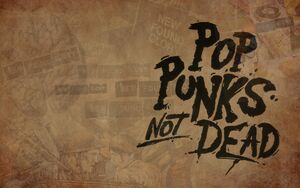 Welcome to the Pop-Punk Pleasure Wiki
Edit
This is all about Pop-punk bands such as Green Day, Blink-182, Sum 41, My Chemical Romance, and New Found Glory! Enjoy this wiki!!
The History of Punk and Pop-Punk
Edit
Punk was a movement back in 1970's. Bands like the Clash and the Sex Pistols were punk! Punk stopped around the mid 80's. In 1987, punk was revived by a band known as "Sweet Children". This was considered pop-punk. In 1989, Sweet Children changed their name to "Green Day" and released an EP called 1,000 Hours. Later on in 1992, a band named "Duck Tape" which was changed to "Blink" reelased a demo tape called Flyswatter. In 1994, Green Day released their 3rd album called Dookie. This brought punk into the mainstream. In 1996, a band called "Kaspir" formed and in 1998, they released a demo tape under the band name "Sum 41". In 1999, Blink, now known as "Blink-182", released their 3rd album, Enema of the State, which became their big album! They then released the song "All the Small Things." In 2002, a band called "New Found Glory" released their 3rd album called Sticks and Stones. The hit "My Friends Over You" became one of their biggest songs. Many bands have formed through these bands. Green Day's side projects include the punk band "Pinhead Gunpowder", the new-wave band "the Network", and the 1960's type garage band "Foxboro Hot Tubs." Blink-182's side projects include the pop-punk band "Boxcar Racer", the space rock band "Angels and Airwaves" and the pop rock band "+44". Pop-punk has been a very popular type of music for many teenage bands. Blink-182 released their 6th album, Neighborhoods, in 2011. After a hiatus of 5 years, they were ready to move on.
Latest activity
Edit
Community content is available under
CC-BY-SA
unless otherwise noted.